Each One Teach One
A workshop for mothers/ daughters, grandmothers/ granddaughters, sisters, co-workers, or friends. A great way to share your love of quilting.
This fun workshop introduces sewing novices to quilting. With your support they will complete their first quilt top. The experienced quilter will provide the basic supplies, cut and press. The beginner will sew and choose their design lay out.
This workshop will entice beginners and intrigue advanced quilters. (3 or 6 hours)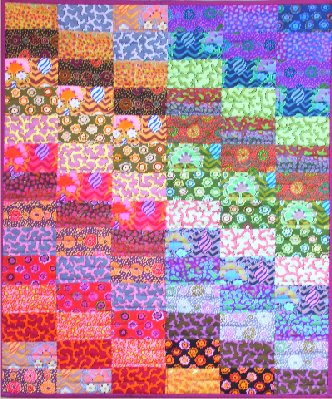 Birds Of the Air

This workshop will cover 3 techniques, piecing, fusible appliqué, and bias appliqué.

Sharon's original appliqué patterns included (6 hours).
Orange Peel Ragtime
This workshop is based on the Orange Peel and Robbing Peter to Pay Paul blocks that date back to the early 1800's. The pattern looks complicated with all of its interlocking circles, but it is actually quite easy using the frayed -circle technique.
This quilt is fun for the beginning quilter and satisfying for experienced quilters (3 or 6 hours).